Dr. Fahim Khan
(MBBS,MD,MRCP London,FRCP London, FRCP Edin, FACP-Rheum)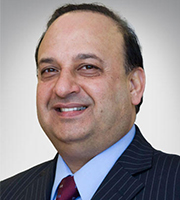 Dr. Fahim Khan
Dr. Fahim Khan (MBBS,MD,MRCP London,FRCP London, FRCP Edin, FACP-Rheum) is a consultant Rheumatologist at the UPMC Aut Even Hospital Freshford Road Kilkenny, Ireland.
Dr. Khan completed higher postgraduate qualifications from Ireland, UK and USA. Dr. Khan qualified the membership examination of the Royal College of Physicians of London UK, Fellowship from the Royal college of Physicians of London and Edinburgh UK and Fellowship from the American College of Physicians. Dr. Khan worked in a number of University Teaching Hospitals in Ireland and USA and completed his higher training in rheumatology fellowship and research experience in knee osteoarthritis disorders.
Dr. Khan has extensive experience in rheumatology including early arthritis clinics and rheumatology related pain management disorders including back pain and has extensive experience in ultrasound guided injections for back pain and joint pains.
Dr. Khan has qualifications in Pain Management and has attended the Pain Management Training Seminars in Florida USA and has certificates in joint injections from the British Institute of Musculoskeletal Medicine UK, American Pain Society and training and certificates in ultrasound guided injections for joint pains and nerve related disorders in Montreal Canada.
Dr. Khan also provides services for rheumatology related nerve conduction studies by using the most modern Advance Pain free neurometrix system for the diagnosis of nerve related back pain, leg pain and carpal tunnel syndrome etc in his rheumatology practice and in the diagnosis of pain disorders.
Dr. Khan is the author of many medical and rheumatology articles/publications in the leading international medical/rheumatology journals and writes regularly in the leading medical journals in Ireland. Dr. Khan has full registration with the General medical council UK , Medical Council of Ireland and is the International member of the American College of Rheumatology. Dr. Khan is the Fellow of American College of physicians of USA , Member of the Royal college of physicians of London and Fellow of the Royal college of physicians of Edinburgh UK.
Dr. Khan special interest in rheumatology apart from general rheumatology include Rheumatoid Arthritis , Psoriatic Arthritis, Ankylosing spondylitis, Gout, Osteoarthritis, Osteporosis, Lupus, Fibromyalgia and soft tissue rheumatism and related pain management disorders including ultrasound guided joint and nerve injections etc.
Dr Khan has many years of experience in using Calmare Therapy in treating Pain conditions. Calmare® Pain Therapy Treatment (Calmare) is a U.S. FDA 510(k)-cleared and European CE mark-certified pain therapy medical device for the non-invasive treatment of chronic neuropathic and oncologic pain including many other pain conditions. Calmare® avoids the harmful, potentially fatal, adverse side effects and addictive properties linked to narcotic pain killers.
Dr Khan has successfully treated many patients with Calmare Therapy for pain management including Nerve Pain(neuropathic pain) like Complex Regional Pain Syndrome(CRPS)/ Reflex Sympathetic Dystrophy(RSD) and Chemotherapy-induced peripheral neuropathy (CIPN) with success rate of over 80 to 90 % with similar success rates with Calmare Centres in many renowned Pain Centres in the United States and other Pain conditions for which Calmare Therapy is indicated including Nerve pain like Peripheral neuropathy, Diabetic neuropathy, shingles Pain/ Postherpetic neuralgia and other pain conditions including Fibromyalgia, Low Back pain, Sciatica, Failed back surgery, Neck Pain, Myofascial Pain, Phantom limb syndrome, Cancer pain.