Early Arthritis Clinics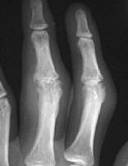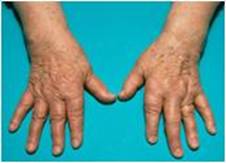 There is growing evidence that early therapeutic intervention in the course of Inflammatory Arthritis leads to earlier disease control and less joint damage.
The Early Arthritis Clinic represents a structured environment for patients to be investigated, reviewed and treated using the latest technology (such as US imaging with Power Doppler assessment of synovitis). This will provide patients with the opportunity for rapid symptom control and improved long term functional outcome based on an evidence based approach to therapy and management of their condition.
Referral Criteria
(Patients should have all three criteria when referred)
1. Clinical evidence of Inflammatory Arthritis
2. Disease duration 3 – 12 months from symptom onset
3. At least 1 swollen joint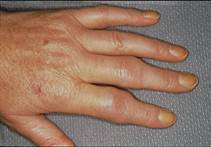 What is Rheumatoid Arthritis?
Rheumatoid Arthritis, also called RA, is an autoimmune disease that mostly affects joints. It is generally a chronic disease that if left untreated can lead to significant pain, disability, and deformities.
Who gets RA?
About one percent of people worldwide have rheumatoid arthritis. It is twice as common in women as men. Often, RA starts in women in their childbearing years. However, it can affect anyone at any age.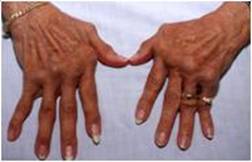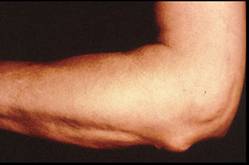 What are the symptoms of RA?
Patients with rheumatoid arthritis develop pain, swelling, and stiffness in their joints. The symptoms may start abruptly or occur gradually over time. Some patients will have many joints which are swollen and painful, while others may have just a few joints involved. Most patients will have stiffness when they first wake up that persists for 30 minutes or more. RA generally involves both sides of the body and often involves the small joints of the hands and wrists as well as the feet. Additionally, the elbows, shoulders, hips, knees, and ankles can be affected.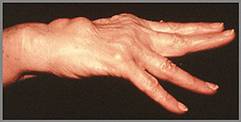 What are the advantages of being seen early?
Studies have shown that patients diagnosed and treated early have better long-term outcomes. There is growing evidence that early therapeutic intervention in the course of Inflammatory Arthritis like rheumatoid arthritis or psoriatic arthritis leads to earlier disease control and less joint damage. Additionally, in the short term they are able to have better relief of their pain and return to work and their other daily activities faster.
How do I know if I should be evaluated for RA?
Patients with warm, stiff, swollen joints, especially the hands and feet, that persist for four weeks should see their physician and ask if they might have symptoms of RA.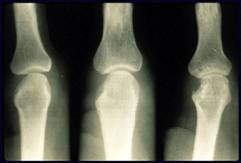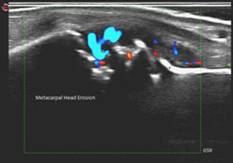 What happens at the rheumatology clinic in my evaluation for rheumatoid arthritis?
The first step in evaluation is talking about your symptoms and then undergoing a physical examination to look for red, warm, or swollen joints. X-rays of your hands and feet will be taken to look for any damage that may have occurred from inflammation. Recently there evidence supporting the use of Ultrasound scans or MRI scans showing additional benefit in diagnosis of earlier joint damage and inflammation. Also, blood tests will be done to look for markers of inflammation (Sedimentation rate or C-reactive protein) or antibodies related to rheumatoid arthritis (Rheumatoid Factor or anti-CCP antibodies). Your primary care doctor may or may not have done some X-rays or blood work in evaluating your symptoms.
How long does it take to find out the results of my tests and start on treatment?
It takes about one week for results of your blood work to return. Depending on your symptoms, their severity, and the findings on your physical exam, some treatment may be started at your initial visit. Our goal is start patients on treatment within 15 days of diagnosis of RA as this leads to better outcomes long-term.
What is the treatment for RA?
There are numerous medications available for RA. In the short term, many patients are started on ibuprofen or related medicines to decrease the pain and swelling. Patients who present with moderate to severe symptoms are often started on prednisone to decrease their swelling and pain. The long term treatment of RA requires treatment with one or more medications called DMARDs (Disease modifying anti-rheumatic drugs). These include medications such as hydroxychloroquine, methotrexate, leflunomide, or sulfasalazine and Biologics( Injection treatment).
Your doctor can help tailor your treatment based on your symptoms, other medical conditions and medications, and the potential side effects of the medication. Additionally, we will be in communication with your primary care provider about your diagnosis and plan of treatment.
I think I may have RA, what is my next step?
If you think your symptoms may be RA, then schedule an appointment with your primary care physician or Gp to discuss them. They can refer you to see a rheumatologist for a comprehensive evaluation. If your symptoms have started between the last four weeks to six months, then your provider may consider sending you to our Early Arthritis Clinic.
Are early arthritis clinics necessary?
Best Pract Res Clin Rheumatol. 2005 Feb;19(1):1-17
Landmark studies published in the 1980s were the first to reveal the long-term consequences of rheumatoid arthritis (RA). Instead of the benign outcomes previously reported from early population studies, disability, deformity and excess mortality were evident. At this time, the conventional pyramid approach was the standard for therapeutic intervention. Patients were initially treated with non-steroidal anti-inflammatory drug with rest and splinting a approach. Disease-modifying anti-rheumatic drugs and corticosteroids were reserved for patients with joint damage and disability, who had 'earned their treatment' and the perceived risk of toxicity. Thus irreversible damage and disability occurred prior to effective therapy being instituted, with the consequences of poor outcomes. The late 1980s saw the introduction of the concept of early intervention in RA and, shortly after, the introduction of specialist clinics for early assessment of patients with inflammatory arthritis (IA), so-called 'early arthritis clinics' (EACs). Such clinics, initially in large research units, targeted patients with early RA or IA with the potential to evolve to RA, with the aim of early case definition and treatment. After all, the common sense approach to treatment of a chronic inflammatory, destructive condition would be to treat it effectively from its onset, prior to the development of irreversible damage. The detailed documentation undertaken in these clinics subsequently provided much information regarding persistence and prognosis in early IA. Since their initial introduction, EACs have become commonplace, not only in academic units, but also kas part of clinical service provision in many institutions. This review details what an EAC is, who should be referred and when, and the benefits and potential future benefits of their introduction.

Early referral recommendation for newly diagnosed rheumatoid arthritis: evidence based development of a clinical guide
Ann Rheum Dis 2002;61:290-297 doi:10.1136/ard.61.4.290
Abstract
Background: Effective treatment of active rheumatoid arthritis (RA) requires early diagnosis and early disease modifying antirheumatic drug (DMARD) treatment to have an impact on long term morbidity and mortality. Clinical criteria would facilitate early referral of the patient with suspected RA to a rheumatologist for definitive diagnosis and initiation of DMARD treatment at that point in the disease most likely to have an impact on the long term outcome.
Objective: To develop a referral recommendation that may serve as a clinical guide for primary care doctors, enabling them to identify patients with suspected RA during the early inflammatory stages.
Methods: Key points of the referral criteria were formed based on a thorough literature review targeting early RA, early arthritis clinics, DMARD treatment for early RA, prognostic factors of disease progression, early RA clinical trials, and quality of life. Evidence was graded using the methods defined by Shekelle et al. A draft version of the criterion was circulated among the authors for critical evaluation. A consensus integrated these comments.
Results: Clinical evidence strongly supports the observations that structural damage occurs early in active RA and that early DMARD treatment improves the long term outcome of the disease. The observations indicate that rapid referral to a rheumatologist is advised when RA is suspected. This may be supported by the presence of any of the following: ≥3 swollen joints, metatarsophalangeal/metacarpophalangeal involvement, and morning stiffness of ≥30 minutes.
Conclusion: The proposed early referral recommendation is a viable tool for primary care doctors to identify potential patients with active RA early in the disease. Early referral to a rheumatologist for definitive diagnosis and early DMARD treatment should improve the long term outcome of RA.
If you suffer from joint pains or arthritis,disease duration 3 - 12 months from symptom onset or at least 1 swollen joint and need further diagnosis and treatment then please contact Rheumatology Clinic for any information or appointment.
To help us in diagnosing your current arthritis issue please click here to fill the form

The Early Arthritis Clinic

Consultant Rheumatologist

Presentation Early Arthritis Clinic Audit