Ultrasound In Rheumatology, Musculoskeletal Conditions And Regional Pain Disorders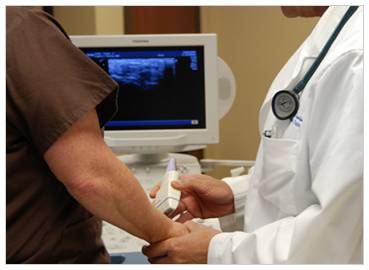 Musculoskeletal ultrasound is rapidly emerging as valuable diagnostic tool for Rheumatologists. It improves clinical diagnosis as well as interventional skills and aids in the screening and diagnosis of arthritis.
Procedure:
Ultrasound scanning is noninvasive (no needles or injections) and totally painless. The procedure takes less than 20 minutes. Warm gel is placed on the area of the body to be examined. The ultrasound probe is moved around to obtain specific images of the joints, muscle, tendon or soft tissue to be examined such as tears of the rotator cuff or the Achilles tendon in the ankle, joint damage or erosions seen in rheumatoid and inflammatory arthritis, fluid collections within joints like Osteoarthritis knees, tendonopathy, muscle pains and bursitis can also be examined and diagnosed.
Typical indications for ultrasonography in Rheumatology include:
Ultrasound is a powerful diagnostic tool for the imaging evaluation of musculoskeletal disorders and the first modality of choice for the assessment of soft tissue and joint disease. Ultrasound has several inherent advantages. The dynamic real time nature of Ultrasound often results in a more directed examination specific for the individual.
A wide spectrum of pathologic conditions of the musculoskeletal system can be demonstrated:
Muscles, Tendons, Ligaments
Superficial Joints
Shoulder Pain
Shoulder Tendon Tears (Rotator Cuff)
Hernias
Soft tissue Swellings and Bumps
Foreign Bodies
Bursitis
Impingement
Ultrasound Use Inrheumatology
Ultrasound is used to evaluate inflammatory and crystalline arthropathies(Gout) as well as regional pain disorders.
Inflammatory Arthritis
Ultrasound(Songraphy) aids in the confirmation of synovitis in early inflammatory arthritis.2 The sonographic evaluation of inflammatory arthritis has been aided by consensus definitions of synovitis and erosions by the OMERACT group. 4 Small amounts of fluid can be detected in joints as well as tendon sheaths. Ultraousound is also more sensitive in the detection of enthesitis.3 Increased vascularization can be demonstrated by power doppler.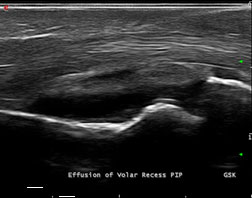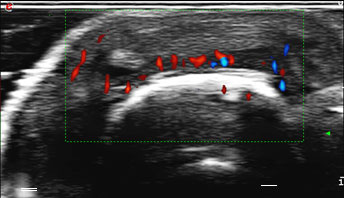 Fig 1: Detection of Effusion in the volar recess of the PIP joint – longitudinal and transverse views.
Ultrasound is more sensitive than plain xrays in the detection of erosions.5, 6 The earlier detection of erosions may lead to adjustment of remittive therapies especially in the presence of active synovitis. In a patient with established inflammatory arthritis, sonography may be useful in documenting ongoing synovitis.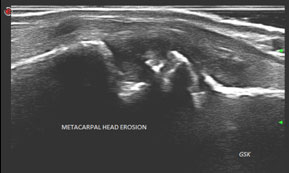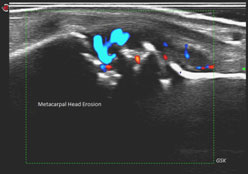 Fig 2: Active synovitis overlying a large metacarpal head erosion.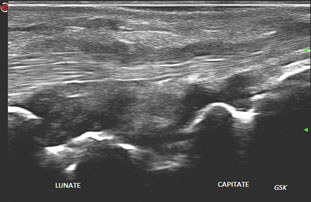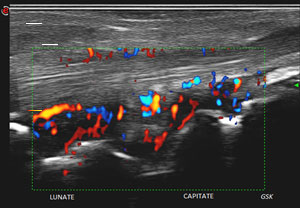 Fig 3: Longitudinal view of the wrist revealing active synovitis
Although the traditional view of inflammatory arthritis has been mainly to follow joints, disease activity may also affect the tendon and tendon sheaths. Similarly, sonography can be readily used at the bedside. to evaluate nerve entrapment at sites such as the carpal or cubital tunnel. The hallmark prestenotic dilation may be demonstrated.
Crystalline Arthropathy
Sonography can differentiate deposition of urate on cartilage from chondrocalcinosis. Urate deposits on the surface of the cartilage ("double contour sign") while chondrocalcinosis is detected within the cartilage.7 Sonography is more sensitive than plain xrays in detecting erosions. It is also a sensitive tool in the detection of tophii.8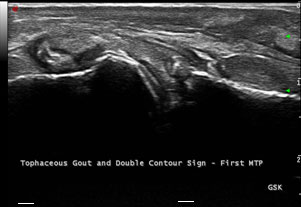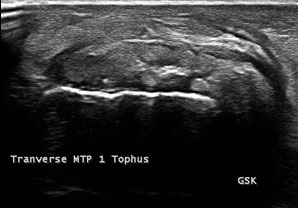 Fig 4: Longitudinal and transverse views of the first MTP revealing tophaceous dorsal deposit as well as double contour sign.
Regional Pain Disorders
Regional pain disorders such as shoulder pain, elbow pain and heel pain may be readily evaluated by ultrasound. Sonography may demonstrate tendinopathy, tendon calcification and vascularization as well as bursitis. Ultrasound visualization of the needle helps in the accurate placement of local injections which may improve outcome.9, 10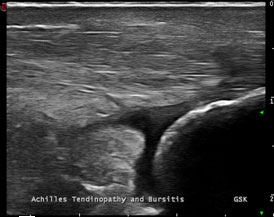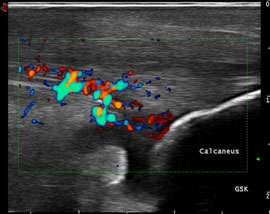 Fig 5: Achilles tendinopathy and retrocalcaneal bursitis.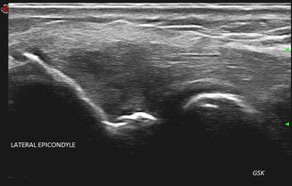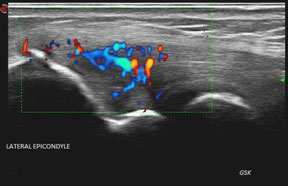 Fig 6: Common extensor tendinopathy in a patient with lateral elbow pain.
Fig 7: Common extensor origin injection.
Diagnostic
Joint and soft tissue pain generator, bursitis, RTC pathology, tendinopathy, tendinitis, posterior labral tear, AC joint arthritis, muscle atrophy, epicondylitis, joint effusions, inflammatory arthropathies, cortical erosions, fractures, neuromas, nerve entrapments, split peroneal tendons, subluxing tendons, ligament tears, partial and complete tendon ruptures, ganglions, soft tissue masses, snapping hip syndrome.
Interventional
Joint injection including deep joints such as the hip, bursa injection, tendon sheath injection, cyst aspiration/ injection, percutaneous tenotomy, calcific deposit irrigation, nerve entrapment injection, anterior/ posterior interosseous nerve injection, nerve blocks.
What Are the Benefits vs. Risks?
Benefits
Most ultrasound scanning is noninvasive (no needles or injections) and is usually painless
Ultrasound is widely available, easy-to-use and less expensive than other imaging methods
Ultrasound imaging uses no ionizing radiation
Ultrasound scanning gives a clear picture of soft tissues that do not show up well on x-ray images
Ultrasound causes no health problems and may be repeated as often as is necessary
Ultrasound provides real-time imaging, making it a good tool for guiding minimally invasive procedures such as cortisone injections, and aspiration of fluid in joints or elsewhere
Unlike the strong magnetic field of MRI ultrasound is not affected by cardiac pacemakers, implants or fragments within the body. Ultrasound is also an excellent alternative to MRI for claustrophobic patients
Ultrasound may actually have advantages over MRI in seeing tendon structure, which is better appreciated by ultrasound than MRI
Risks
For standard diagnostic ultrasound there are no known harmful effects on humans.
References:
Musculoskeletal ultrasound--a state of the art review in rheumatology.
Part 2: Clinical indications for musculoskeletal ultrasound in rheumatology.
Kane D, Grassi W, Sturrock R, Balint PV.
Rheumatology (Oxford) 2004;43(7):829-38
Ultrasound of the hands and feet for rheumatological disorders: influence on clinical diagnostic confidence and patient management.
Matsos M, Harish S, Zia P, et al.
Skeletal Radiol 2009;38(11):1049-54
Why aren't we all doing ultrasound?
Estrach C, Thompson RN.
Rheumatology 2009;48(9):1019-20
Musculoskeletal ultrasound including definitions for ultrasonographic pathology.
Wakefield RJ, Balint PV, Szkudlarek M, et al.
The Journal of rheumatology 2005;32(12):2485-7
Prospective two year follow up study comparing novel and conventional imaging procedures in patients with arthritic finger joints.
Backhaus M, Burmester GR, Sandrock D, et al.
Annals of the rheumatic diseases 2002;61(10):895-904
The value of sonography in the detection of bone erosions in patients with rheumatoid arthritis: a comparison with conventional radiography.
Wakefield RJ, Gibbon WW, Conaghan PG, et al.
Arthritis and rheumatism 2000;43(12):2762-70
Diagnosis of gout by ultrasound.
Thiele RG, Schlesinger N.
Rheumatology (Oxford) 2007;46(7):1116-21
Gout. Imaging of gout: findings and utility.
Perez-Ruiz F, Dalbeth N, Urresola A, de Miguel E, Schlesinger N.
Arthritis research & therapy 2009;11(3):232
A randomized comparative study of short term response to blind injection versus sonographic-guided injection of local corticosteroids in patients with painful shoulder.
Naredo E, Cabero F, Beneyto P, et al.
The Journal of rheumatology 2004;31(2):308-14
Ultrasound-guided shoulder injections in the treatment of subacromial bursitis.
Chen MJ, Lew HL, Hsu TC, et al.
Am J Phys Med Rehabil 2006;85(1):31-5
To help us in diagnosing your current arthritis issue please click here to fill the form